Stemoscope is the leading Bluetooth stethoscope brand in the world. Stemoscope II is the most affordable electronic stethoscope in the world and Stemoscope PRO is the most cutting-edge wireless stethoscope.
The legendary birth of Stemoscope
A team of acoustic expects, engineers and innovators wanted to invent a Stemoscope for everyone who wants to discover the sound of life, with an emphasis on STEM (Science, Technology, Engineering and Mathematics). The "th" of the word "stethoscope" was replaced with "m" to emphasize the STEM attributes of this device, so the brand "Stemoscope" was coined. The Stemoscope idea attracted 2,091 backers after we launched it on KICKSTARTER, February 20, 2019 and turned into a real product with their support. Most of the backers are healthcare professionals while others have some strong interests in STEM. The audio quality of Stemoscope is widely recognized by professionals since its shipping.
The life-saving device during the pandemic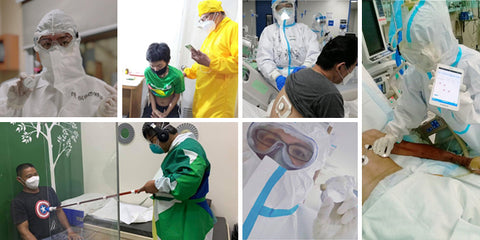 The COVID-19 pandemic accelerated the Stemoscope evolution. Because the old-fashioned stethoscopes can't be used for cross-infection risk, doctors and nurses actively looked for a solution. They found Stemoscope is very useful in helping them fight the pandemic. They can use their Bluetooth earphones to auscultate their patients without breaking the PPE protocols. At the same time, they requested more features, both hardware and software. We decided to design new models and a new app to meet wide medical demands and seek FDA clearance so that they can be marketed as medical devices.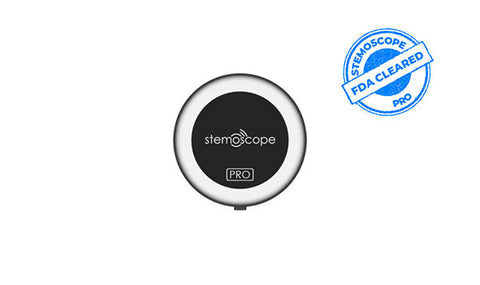 Auscultation freedom
As a team of digital auscultation experts, we are committed to developing the best Bluetooth digital electronic stethoscopes in the world. The FDA clearance of Stemoscope series Bluetooth digital electronic stethoscope and the companion software app enables many healthcare usage scenarios. Either a healthcare professional or a home user can choose a right model to use. If you are doctor in a busy clinic and you might not be willing to pull out your phone to auscultate your patients, you may choose Stemoscope PRO, which can directly transmit the sounds to Bluetooth earphones such as AirPods Pro. The noise cancelling feature plus the noise cancelling function provided by the Bluetooth earphones can provide you the best digital auscultation experience. If you are a home user, you may save the sounds for a reference when you feel your heart is not comfortable or you may livestream the body sounds to your doctor during a video telemedicine session. All these are enabled by the app and cloud service.