No more around the neck in the way tubes. No more neck strain. Stemoscope PRO is the first Dual-Wireless-Mode Bluetooth electronic stethoscope designed for every healthcare professional. In Earphone Mode, Stemoscope PRO DIRECTLY streams to Wireless Earphones. Phone is not a must! In Smartphone Mode, the detected body sounds can be transmitted to a smartphone or tablet running the DrStemo app for further process. The compact design, precise machining stainless steel body, perfect mate of Bluetooth earphones, mobile app and noise cancelling functions provide you superb auscultation experience.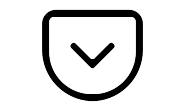 Easy to keep
Stemoscope PRO is compact and portable. You can keep it with you just like Bluetooth earbuds. Store it with this stethoscope case or clip it on your lanyard with this stethoscope holder.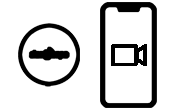 Do more with the App
Visualized sound waveform, digital amplification, various audio filters, predefined recording spots, cloud storage, livestreaming and video telemedicine, all these are realized with the DrStemo app.