Do my "earpieces" work?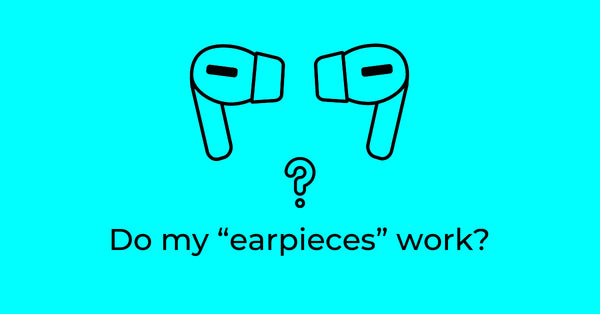 This post discusses the question regarding how "earpieces" work with Stemoscope PRO in the Earphone Mode.
An old-fashioned stethoscope, either digital or non-digital, has earpieces and a chestpiece integrated with cumbersome tubes. Unlike the old-fashioned stethoscope, Stemoscope PRO is a wireless chestpiece only. Your wireless earphones or hearing aids will serve as "earpieces" when they work with Stemoscope PRO. Nowadays, such kind of "earpieces" are very popular and many people have even more than one set of earbuds. However, the selection of the earphones or "earpieces" does affect the way Stemoscope PRO transmit sounds and the sound components you hear. Then the question comes up: do my "earpieces" work? The answer is not a simply YES or NO. Let's look at both connectivity and audio performance.
Connectivity 
Stemoscope PRO can pair with most Bluetooth earbuds. Most Bluetooth earbuds (True wireless stereo, or TWS earphones) support Bluetooth Classic. Stemoscope PRO also works on Bluetooth Classic and they can be paired.
Stemoscope PRO can pair with Bluetooth hearing aids that support Bluetooth Classic. However, only a portion of hearing aids models support Bluetooth Classic. If Your hearing aids do not support Bluetooth Classic, you need to use the DrStemo app or a streamer to bridge Stemoscope PRO and your hearing aids. You may read more in another link regarding Stemoscope PRO for hearing impaired.
With the Stemoscope PRO and the "earpieces" paired, we can say that the earpieces can output the sounds transmitted from the Stemoscope PRO, but how are the sounds acceptable?
Audio Performance
Stemoscope PRO picks up the auscultation sounds. Earphones reproduce the auscultation sounds. While connectivity can be a simple YES or NO, the audio performance involves more factors: low frequency performance, clarity, and volume control. Generally speaking, over-ear headphones and earbuds with silicone rubber tips work better than earbuds without silicone tips. To hear the auscultation sounds, the "earpiece" needs to be capable to output low-pitched (low frequency or low tone) bass sounds, because heart sounds are mainly in the low frequency range. Earphones can be very loud in playing music or human voice but not audible when playing auscultation sounds. For this reason, earphones that have a balanced low frequency and medium frequency performance are preferred. Ambient noise generally has low frequencies. Some hearing aids manufacturers or audiologists may attenuate the low frequency sounds in their design or programs/settings. They think the low frequency sounds are not useful and attenuate these sounds to make the voice and music clearer and more enjoyable. A drawback of this is that such hearing aids can not output auscultation sounds. No matter you have hearing aids or general earphones, we recommend you to listen to the audio samples recorded with Stemoscope PRO to check the auscultation sounds output performance.
A Mini Test for Your Earpieces
Heartbeat sound recorded with Stemoscope PRO at normal volume level
Heartbeat sound recorded with Stemoscope PRO at maximum volume boost level
Beside bass performance, earphones are also ranked by audio quality. A set of higher quality earphones can output sounds with better clarity. The last factor is on the volume of the wireless earbuds. Before AirPods Pro 2 was introduced, most Bluetooth earbuds do not have built-in volume control. The volume can only be adjusted through the phone button when the earbuds connect to a phone. This induced some problem because volume louder than normal is needed to hear auscultation sounds but the default earbuds volume is limited to be not enough loud to hear the auscultation sounds. For example, the general Apple AirPods have good audio quality and work good when listen to the auscultation sounds through the DrStemo app, but if you listen to the auscultation sounds when Stemoscope PRO works in Earphone mode, the volume can be not loud enough for you. That is why we strongly recommend AirPods Pro 2 as "earpieces". When you ask whether the general AirPods work, it is difficult to answer. It can pair with Stemoscope PRO and output the sounds, but the volume might not meet your expectation. Here is a summary of Apple earbuds based on our test. Both Smartphone Mode and Earphone Mode of Stemoscope PRO are evaluated.
| | | |
| --- | --- | --- |
| Earbuds model | Performance in Smartphone Mode | Performance in Earphone Mode |
| AirPods Pro 2 | Excellent | Excellent |
| AirPods Pro (1st Gen) | Excellent | Good to Excellent, lack of built-in volume adjustment |
| AirPods | Good to Excellent, lack of noise cancelling | Good, lack of built-in volume adjustment |
In summary, the final sound quality you hear depending on many factors. It depends on both the "chestpiece" and the "earpieces". The "earpieces" performance plays an important role, which may be easily ignored. Your "earpieces" may work good in outputting voice and music but not auscultation sounds. Get good "earpieces" for good wireless auscultation experience.